7,065,337 CENNZ
$ 105,485
5DLV7RVNDE7pEuZ1i6pa3kFnpiR1S8dtnRfYN24h3BkhSt9R
Staking in the CENNZ network can bring you regular income on your coin holdings. CENNZ holders can choose a validator that secures the network and produces new blocks. In return, the staker:ins receive a bonus of the block income. It's a absolutely secure process, as the coins do not leave anyone's wallet.
For the staking period, your coins are "frozen" in your account. Nevertheless, you retain full control over their balance at all times. There is a time delay of 28 days for unstaking. During the 28 days you will not receive any rewards as the stake is in transit and cannot be used for anything. This is an industry-wide practice to prevent malicious players from leaving the system with their stake immediately.
CEENZnet uses a dual token system. Here the focus is on helping developers, users and token holders to get the most out of their network. When you staked CENNZ you get CPAY as a reward. CPAY is also used as a fee in CENNZnet, which is why you need to have a minimum amount of CPAY in order to do the staking process. If you want to learn more about CENNZnet, CENNZ and CPAY, you can find the necessary information in our Medium article.
CENNZ and CPAY can be bought on the following exchange:
If you haven't an account on CENNZnet yet,
go to https://cennznet.io
and create an account under Create Account.
If you already have an account, you can simply import it under Import Account.
Your personal address will be generated in the next window.
Now you only have to enter a user name (1)
and select a secure password (2) and confirm it. (3)
IMPORTANT! Below you will find your personal mnemonic seed. (4)
You have to write it down and keep it in a safe place.
Then click Save.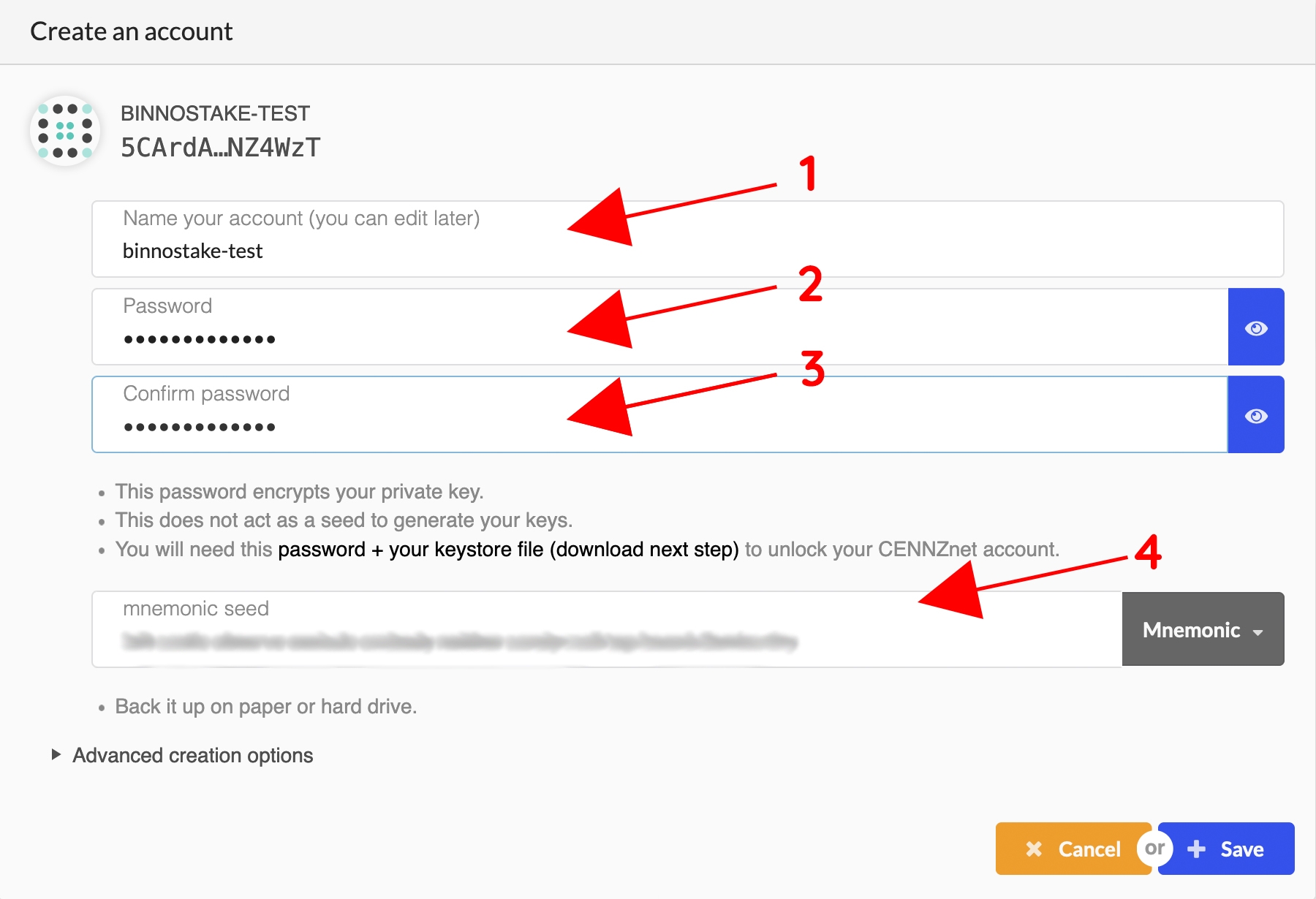 In the next window you can download your personal .json backup file of your account.
Then click Create and backup Account and save the file in a safe place.
Now you have created an account on CENNZnet.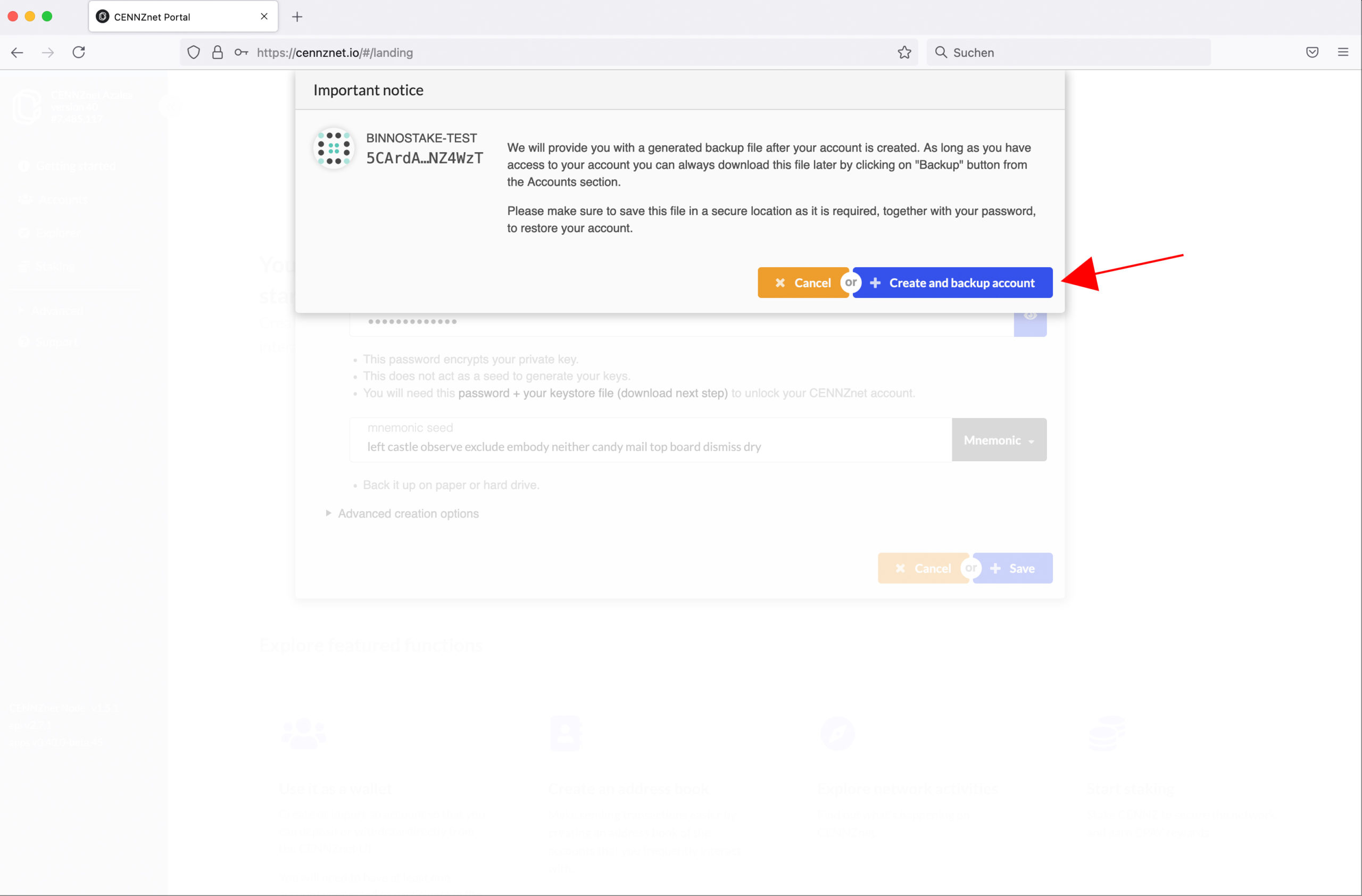 II. NOMINATE

FOR BINNOSTAKE
On the left side in Accounts you will find your account information.
To send the necessary CENNZ (Staking tokens) and CPAY (Fee tokens) to your wallet,
send the amount you want to stake to the address shown there.
IMPORTANT! The minimum amount is 10,000 CENNZ.
TIP! 10-20 CPAY should be enough to pay the necessary transaction fees during the staking process.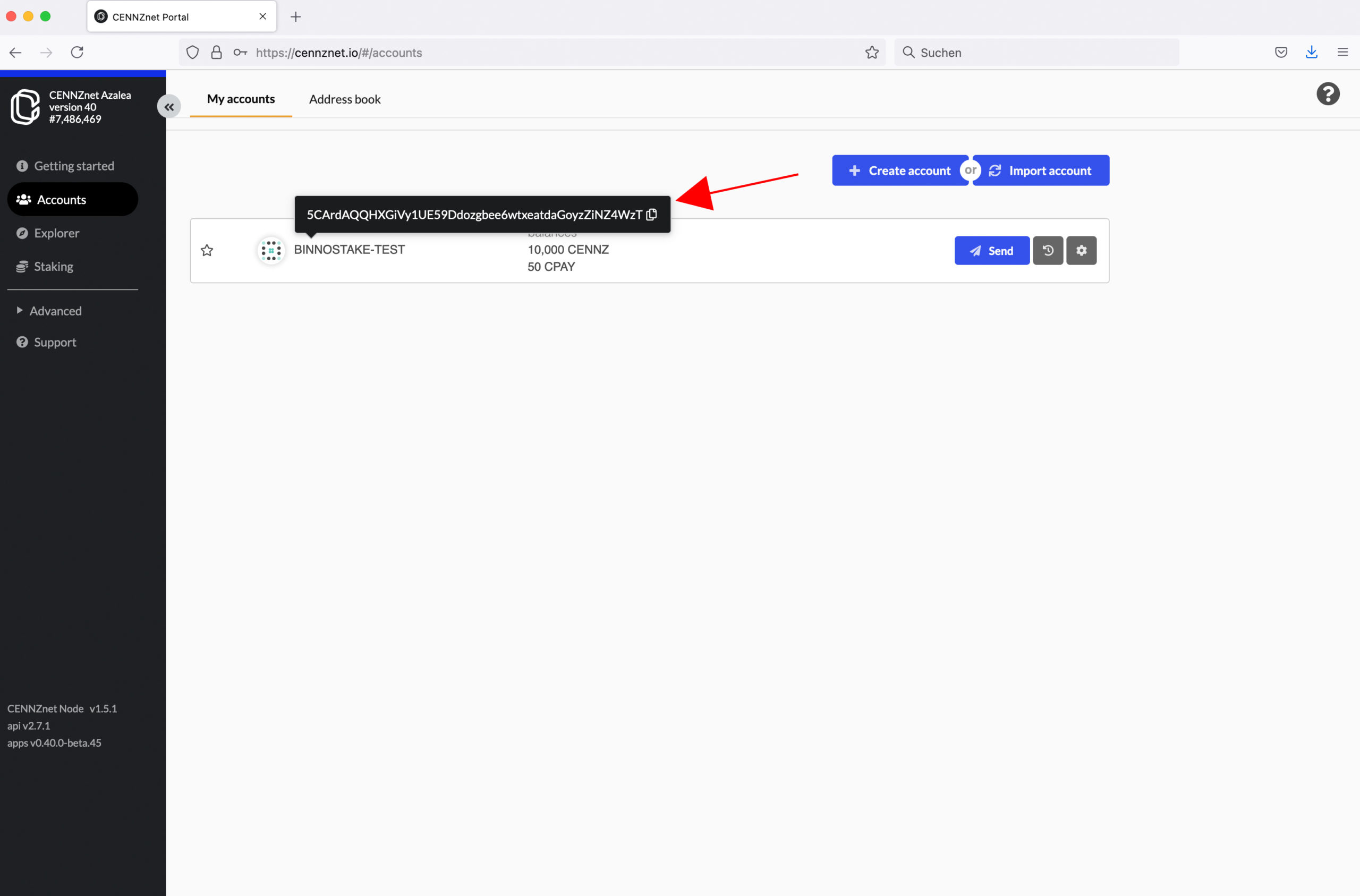 Press the Staking button on the left and go to the New Stake tab (1).
Here you can select Stash (your nominator account) (2) and specify the Reward to (the account that will receive the CPAY Reward) (3) account.
In our example we have selected only one account.
Then enter the desired amount of CENNZ you want to stake (4).
Then select binnostake or the address 5DLV7RVNDE7pEuZ1i6pa3kFnpiR1S8dtnRfYN24h3BkhSt9R (4% Fee) with a check mark (5).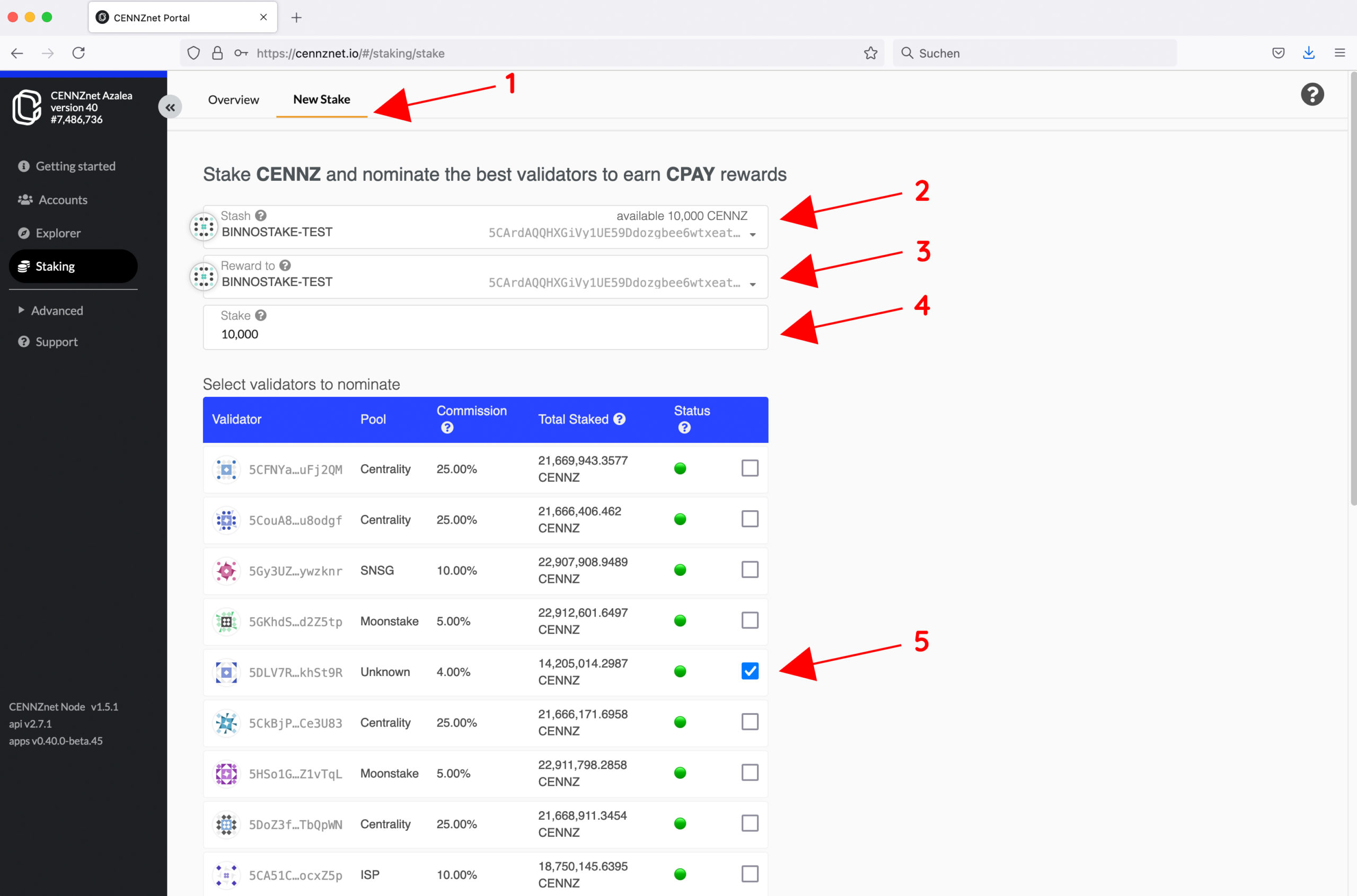 Scroll down to the bottom of the page and press accept the risks (1).
A window will open explaining the risks of the staking process.
After you have read and accept them, close the window by pressing the X button (2).
Then press the nominate button (3).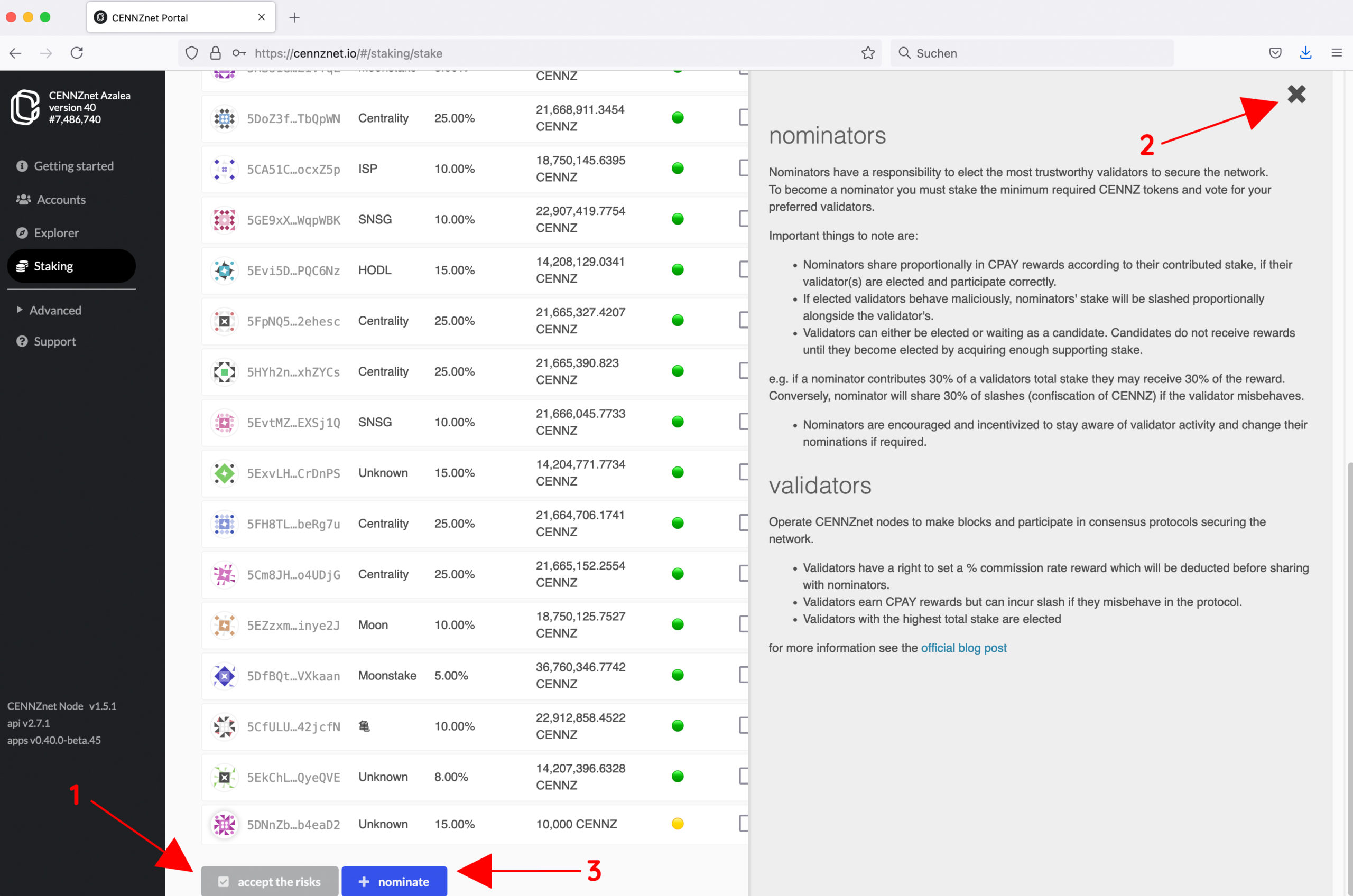 In the last step you will find the overview of your staking. Enter your password (1),
which you have chosen at the beginning and confirm with sign & submit (2).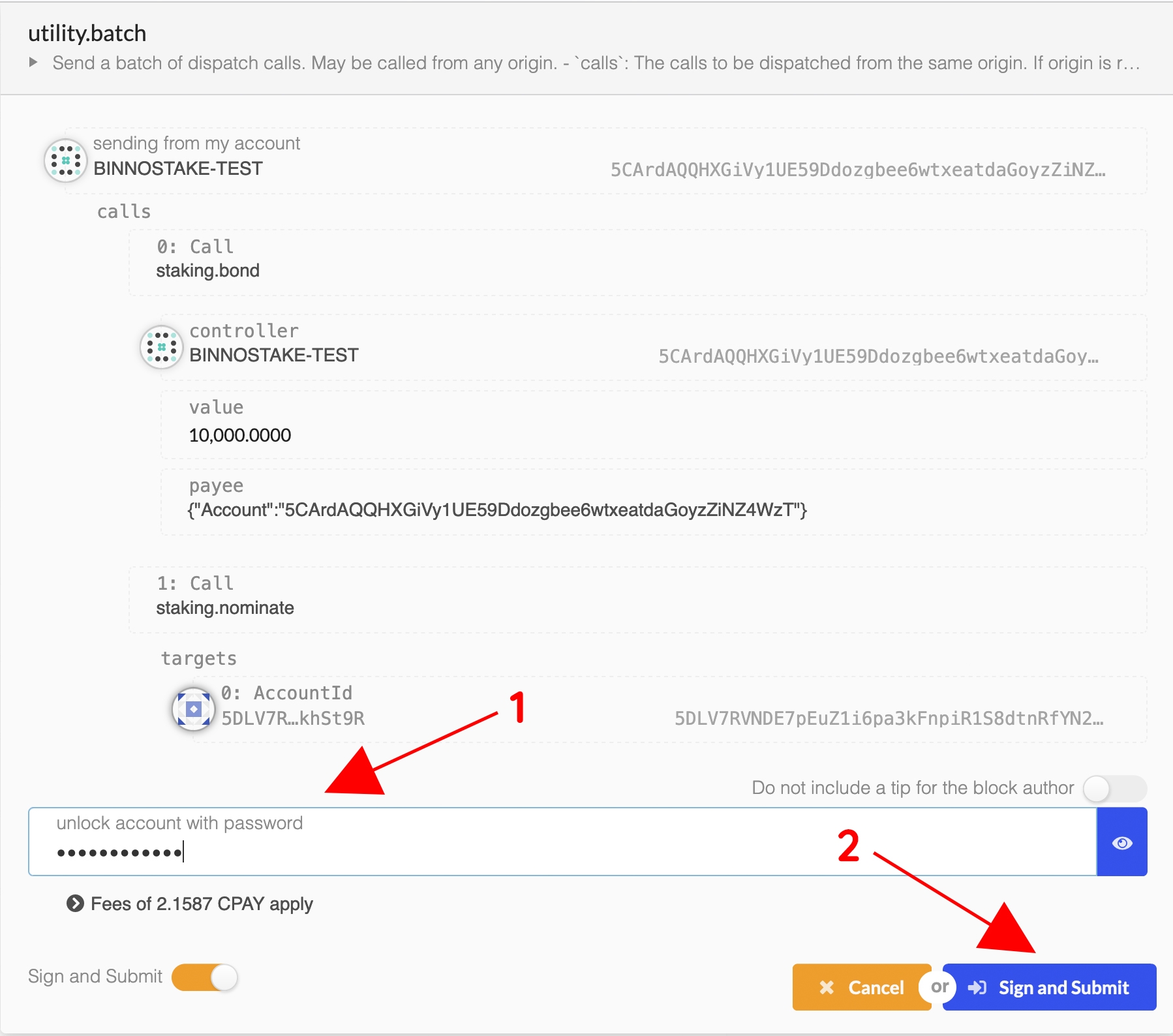 Congratulations
From now on you will receive your steady and continuous commissions
&
you are now part of the Binnostake community!
FREQUENTLY ASKED QUESTIONS
Do I control my CENNZ when staking them?
You are still under full control over your CENZ at every time you delegate your coins to a validator. Binnostake will never have any control over your CENNZ or your private key.
When will I receive my rewards?
You delegate your coins to Binnostake and from that point on you will recieve your first rewards within 24 hours.

Are the rewards directly sent to your wallet?
Are my rewards taxable?
We cannot answer this question in general. This means different tax regulation in different legislations. You should inform yourself, if your rewards are taxable.