69,947,309 CSPR
$ 2,272,588
019ef975310d5781299e90ceccc7bfc0153b5252f2deeeec2396d705ab2d00cce0
Staking within the Casper network can bring you regular income on your coin holdings. CSPR holders can choose a validator that secures the network and produces new blocks. In return, the staker receive a bonus of the block income. It's a absolutely secure process, as the coins do not leave anyone's wallet.
One of Casper's goals is to accelerate the adoption of blockchain technology in enterprises and for developers, and to create an easier path to smart contracts that are useful in the industry.
For safety reasons, a waiting period of ≈14 hours must be observed before the tokens can be removed by unstaking.
CSPR can be bought on the following exchange:
Search in Google for CasperLabs Signer
and add the Chrome Extension to your Google Chrome browser.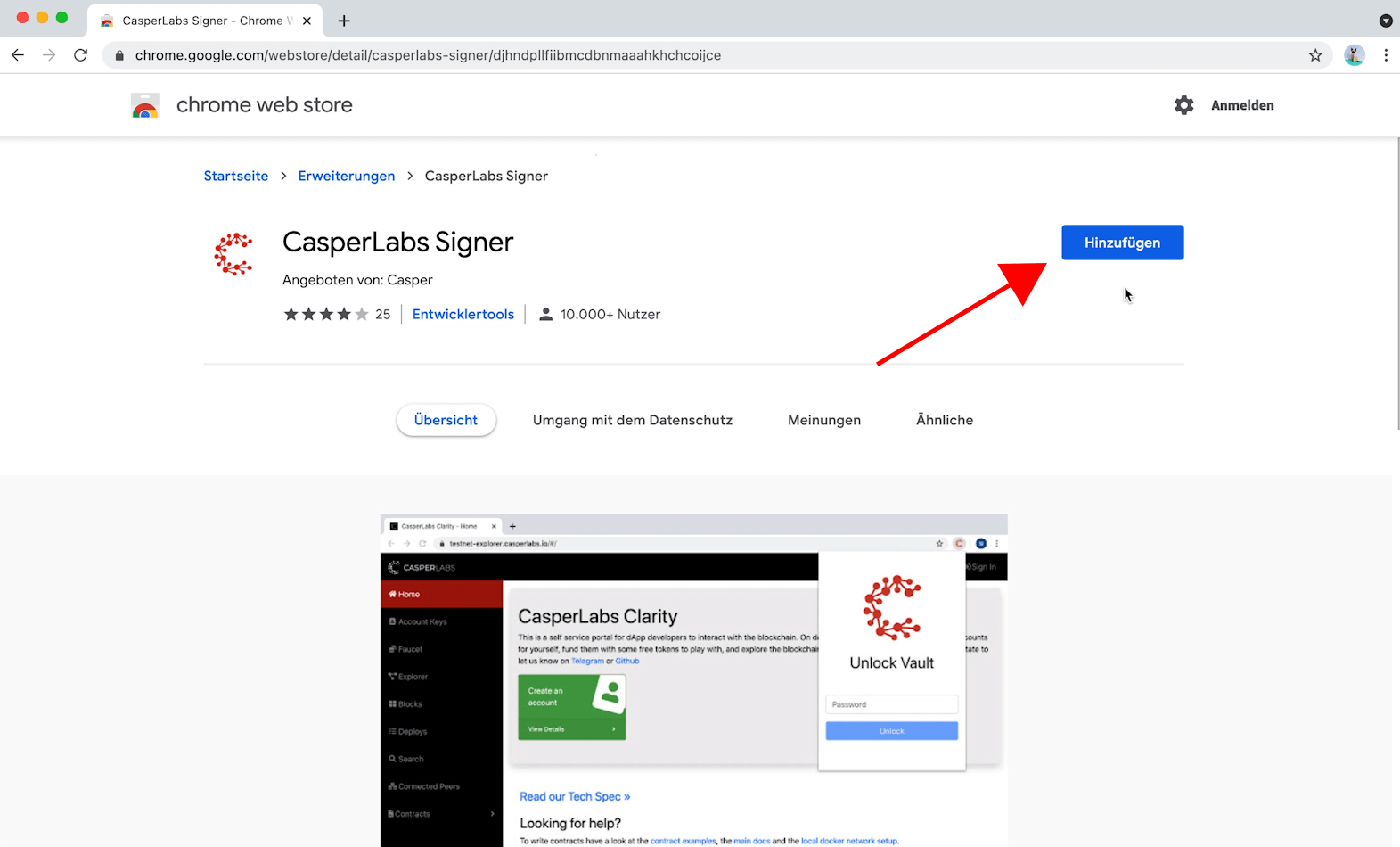 Go to www.casperstats.io
You can reach the extension via the puzzle symbol (1).
Click on it (2).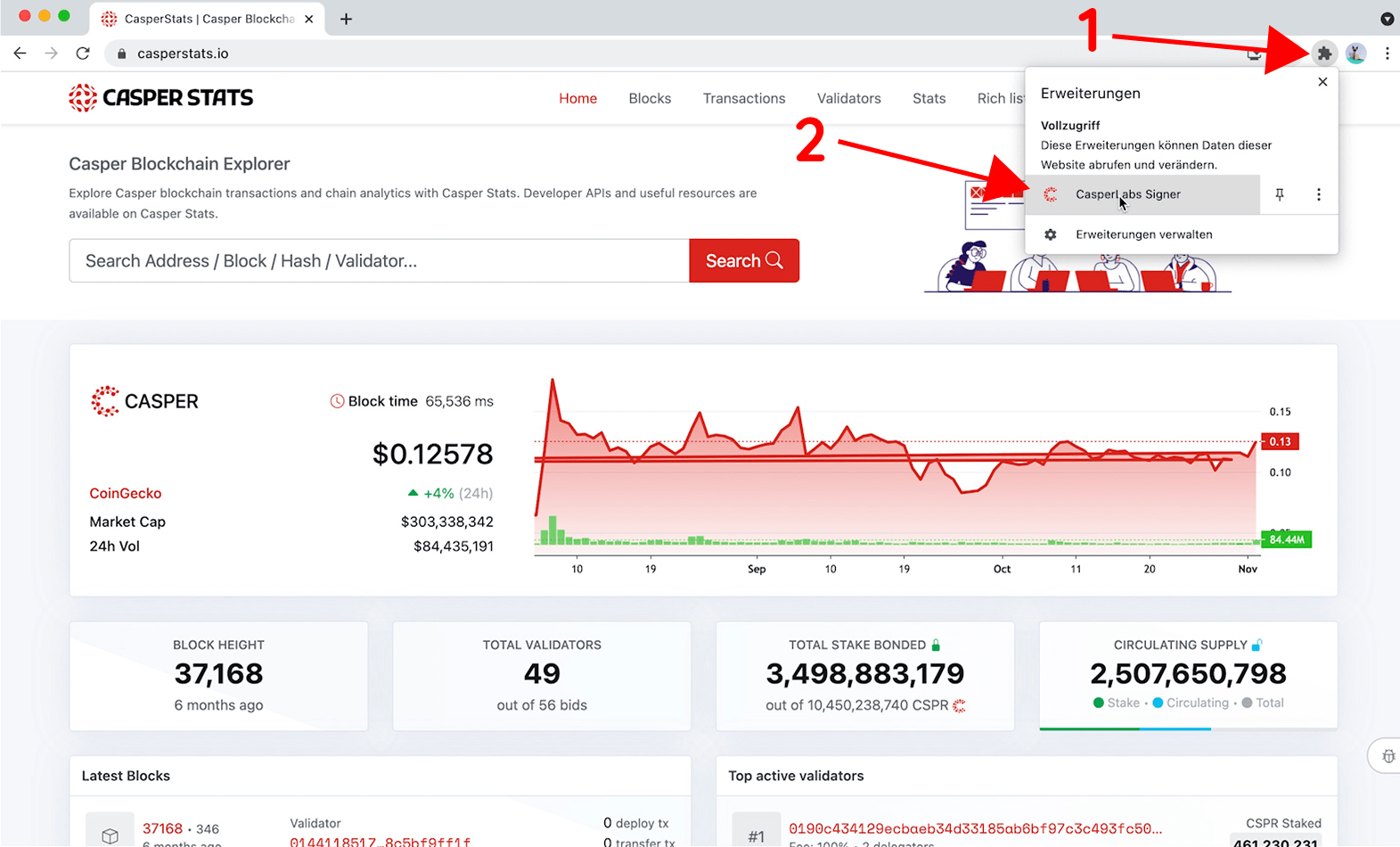 Now you need to set and confirm
a password for your Casperlabs extension.
After that, click CREATE VAULT.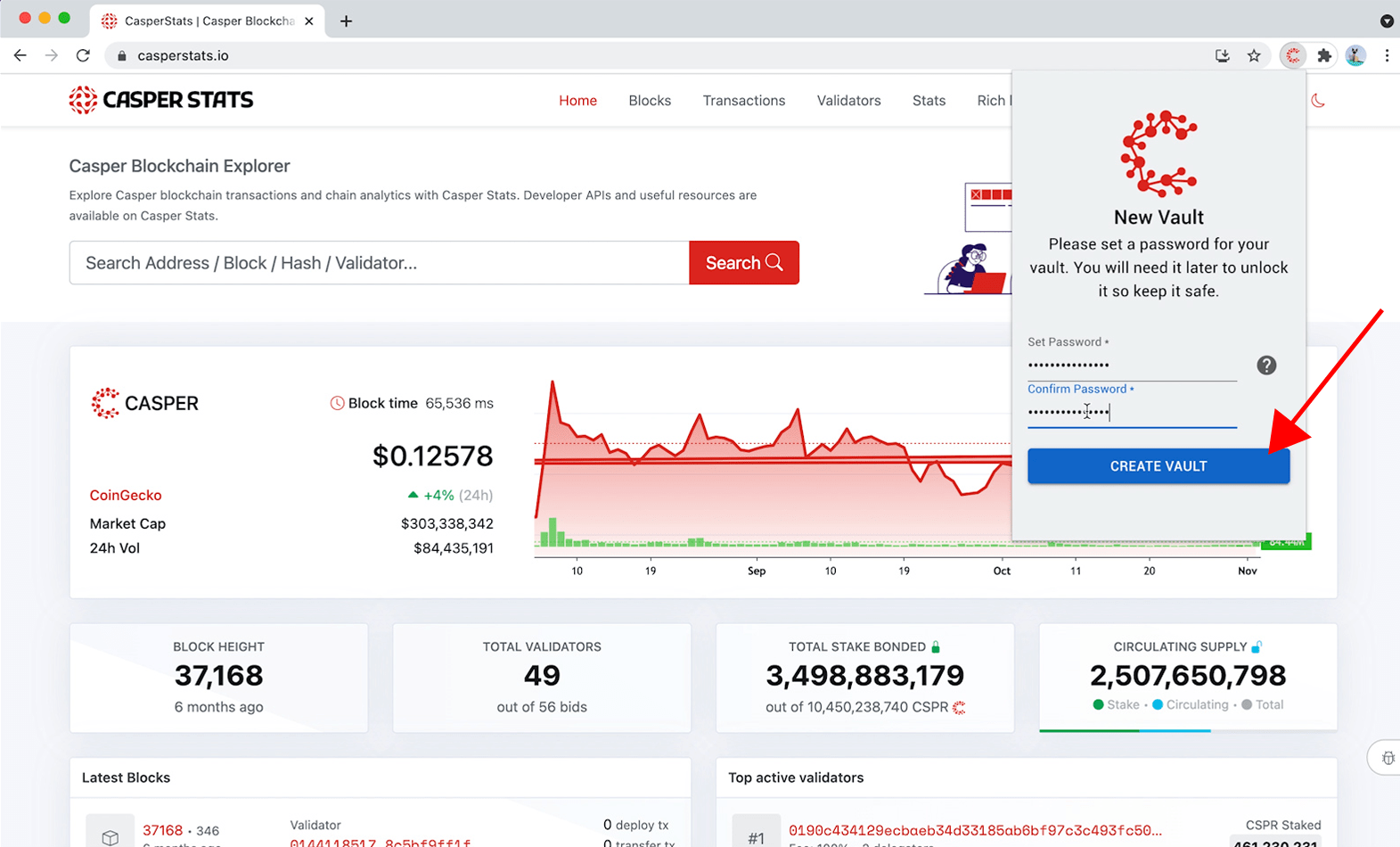 Now you have to create an account with the button Create Account.
If you already have one, you can import it under Import Account.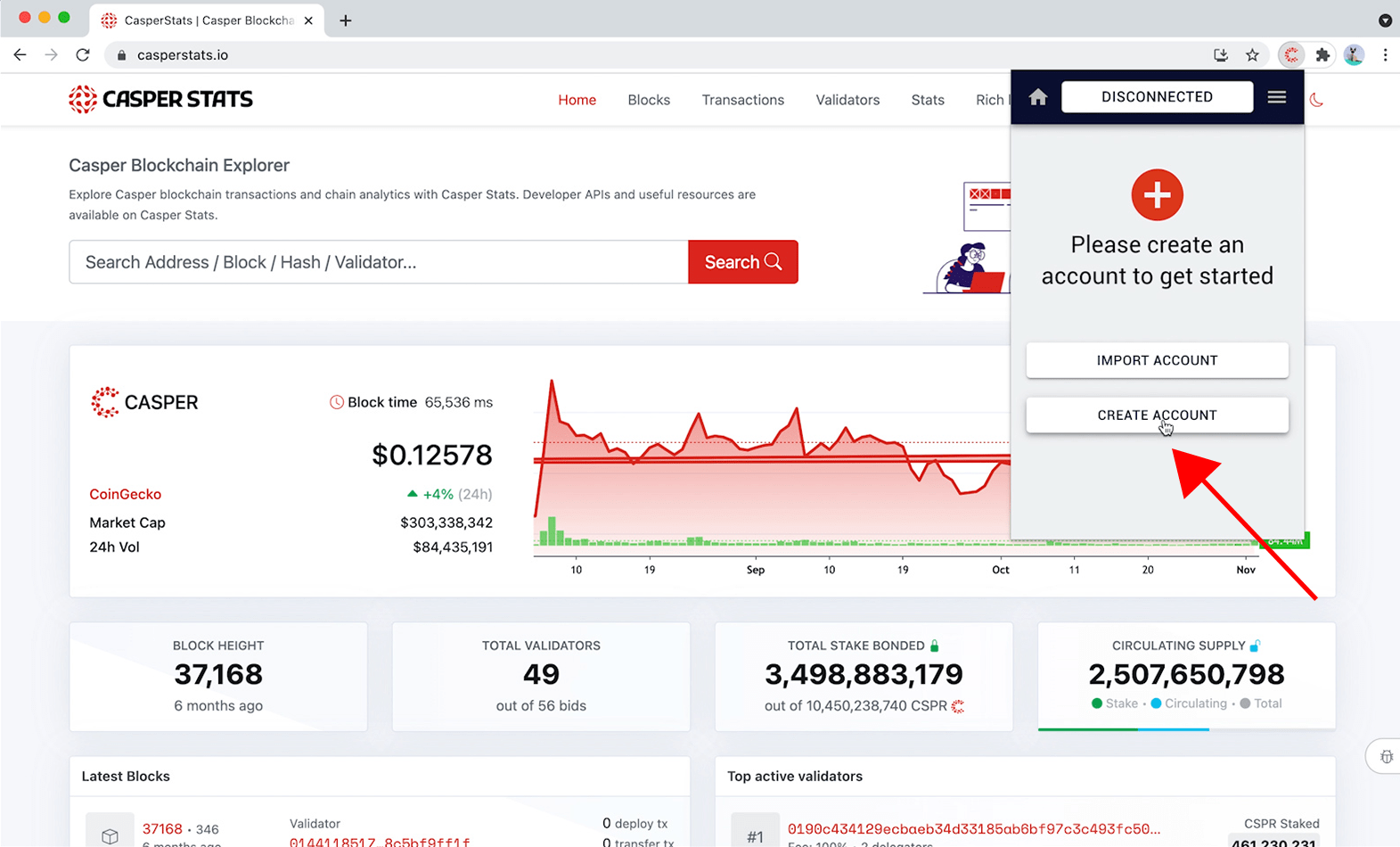 Now set a name for your account (1)
choose one of the two networks (2)
(In our case we have chosen ED25519)
and confirm the process with the Create button (3).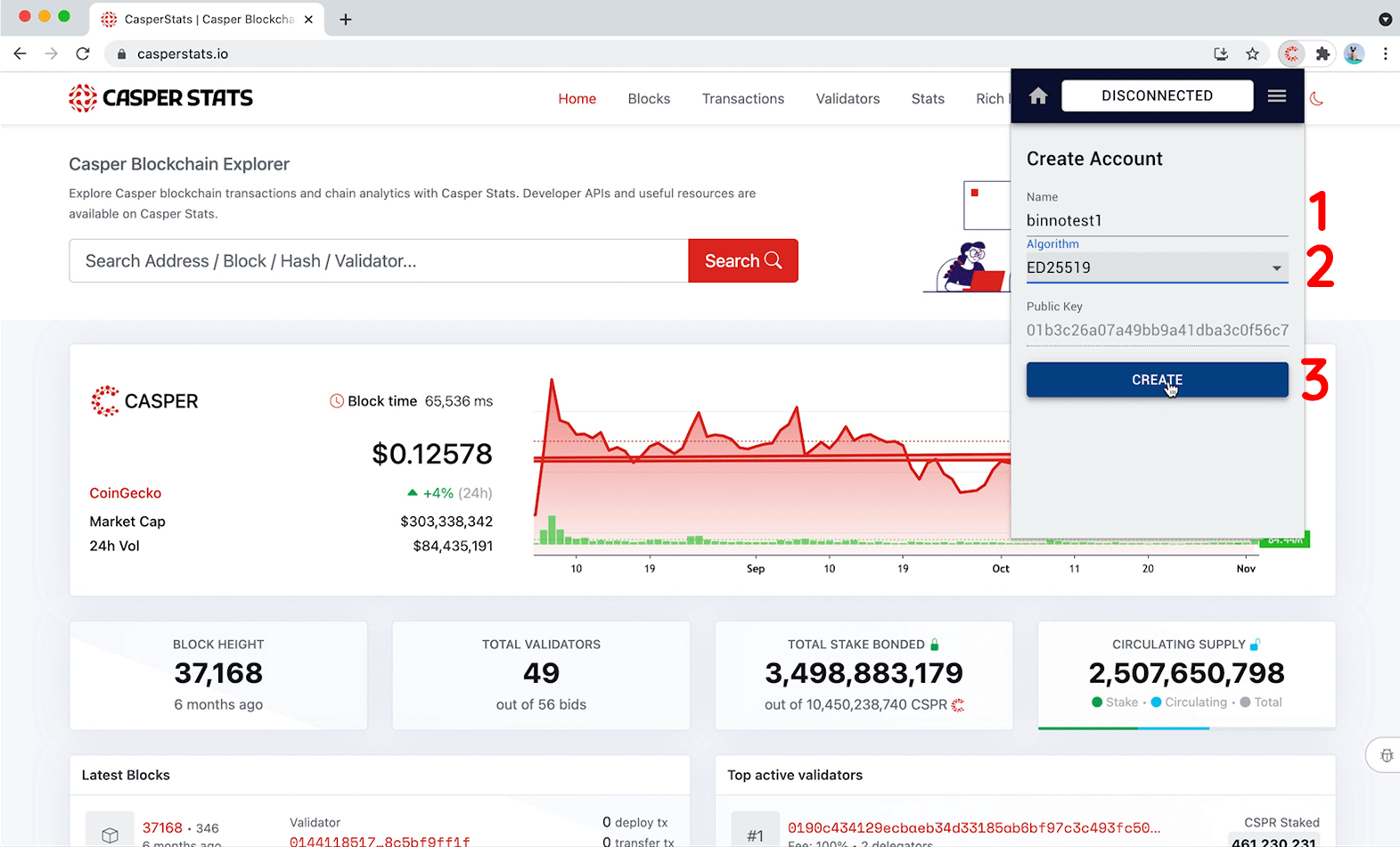 Click on the Vault menu (1)
and select Download Active Key (2).
This step will save your secret key (3).
IMPORTANT: Save it in a safe place.
If it gets lost, you will no longer have access to your account.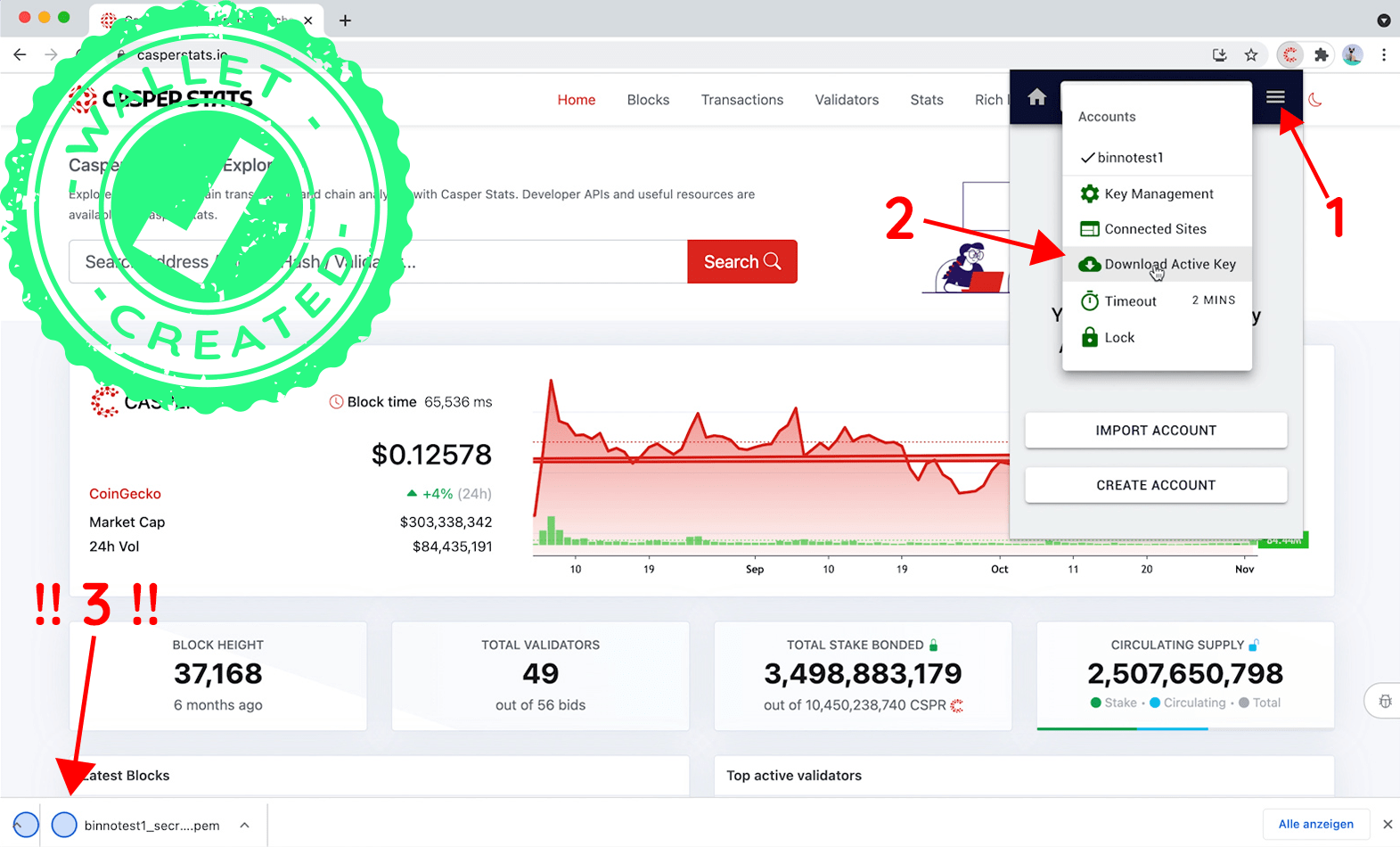 Congratulations!
You have successfully created a wallet.
II. CONNECT WITH WEBSITE

Connect your Chrome Extension with Casperstats.io
Click Sign in (1) in the top bar.
This will open the page where you can link your wallet.
Click Sign in by CasperSigner (2).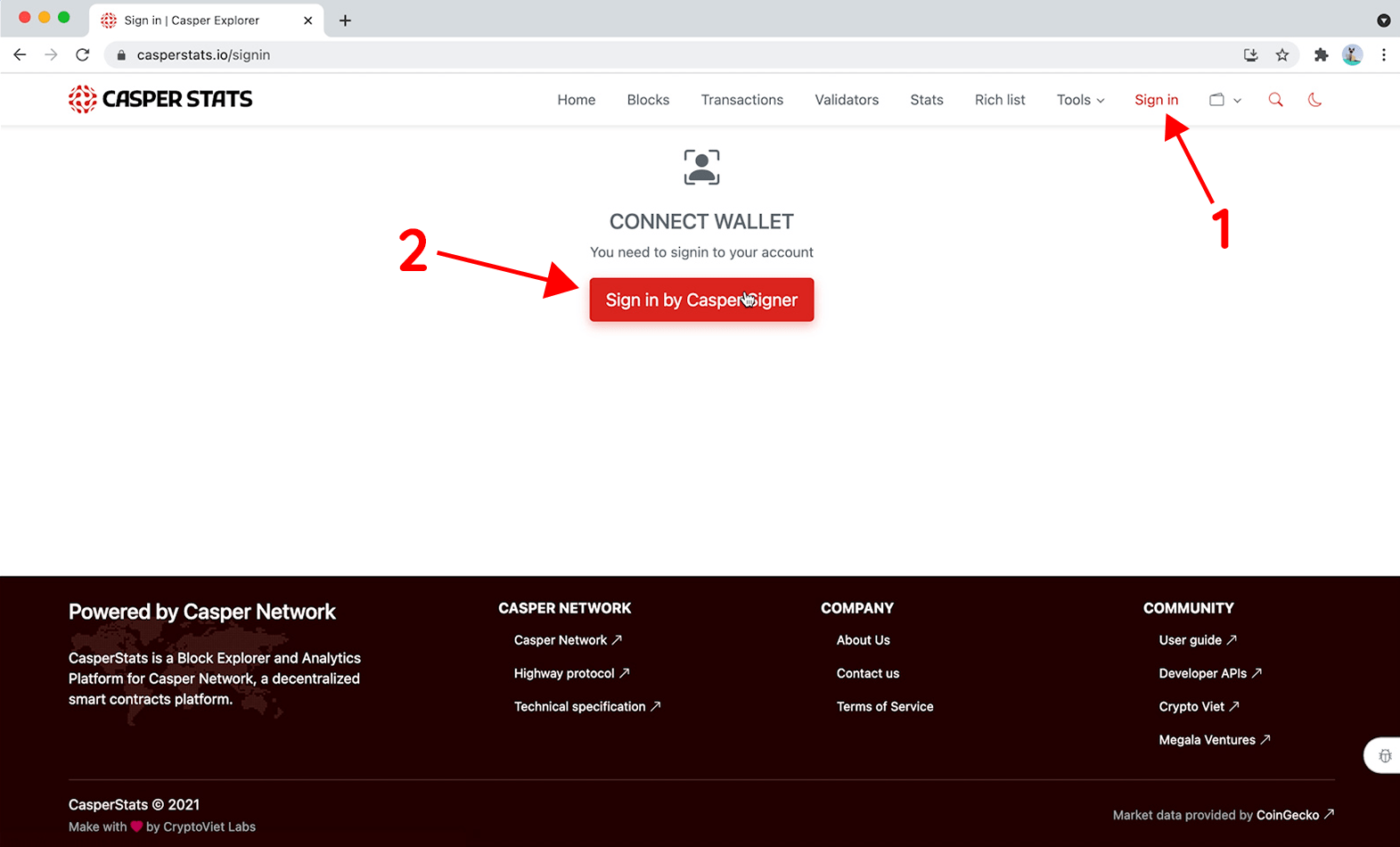 A small window opens.
Click Connect.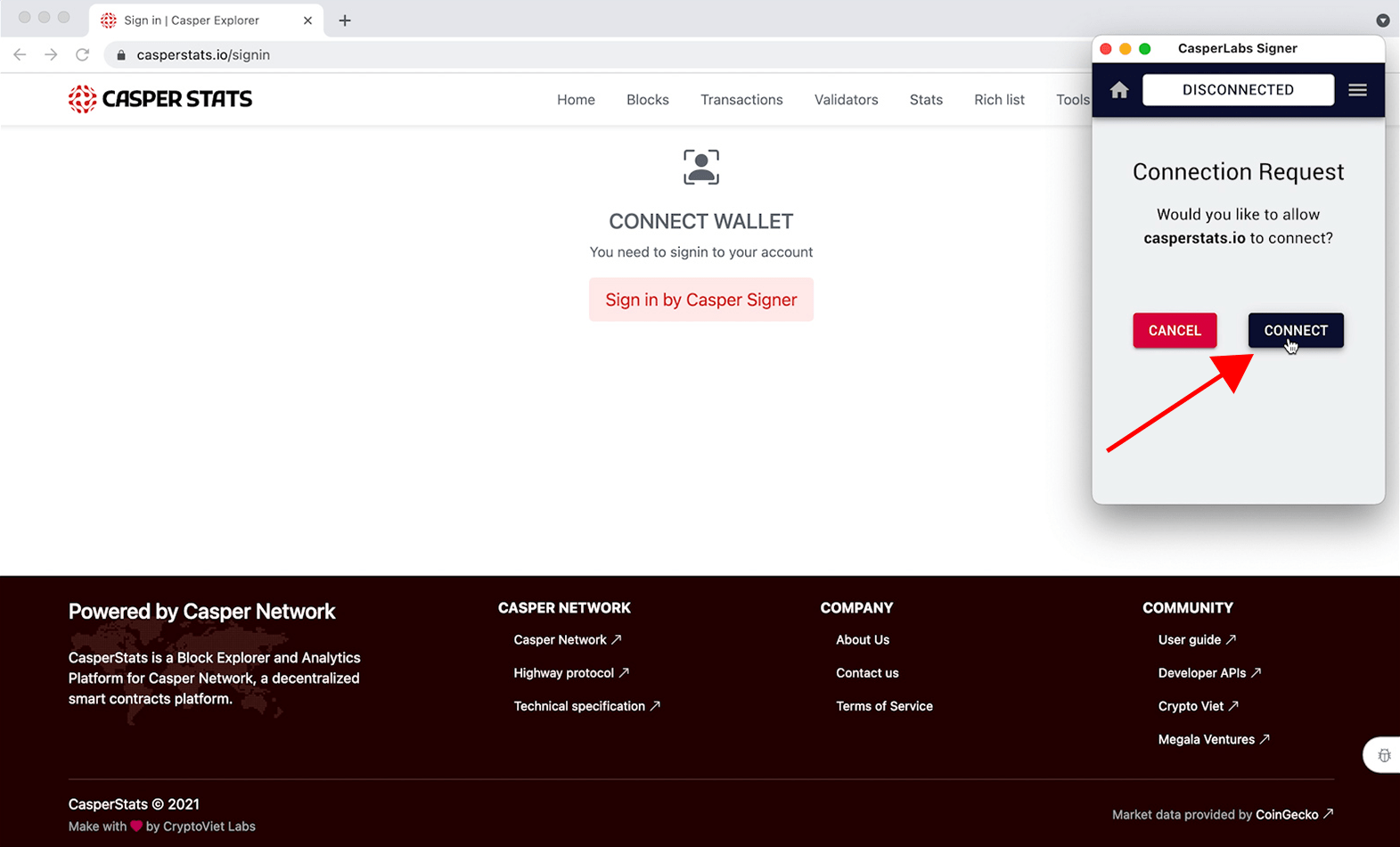 A small window opens again.
Click Connect again.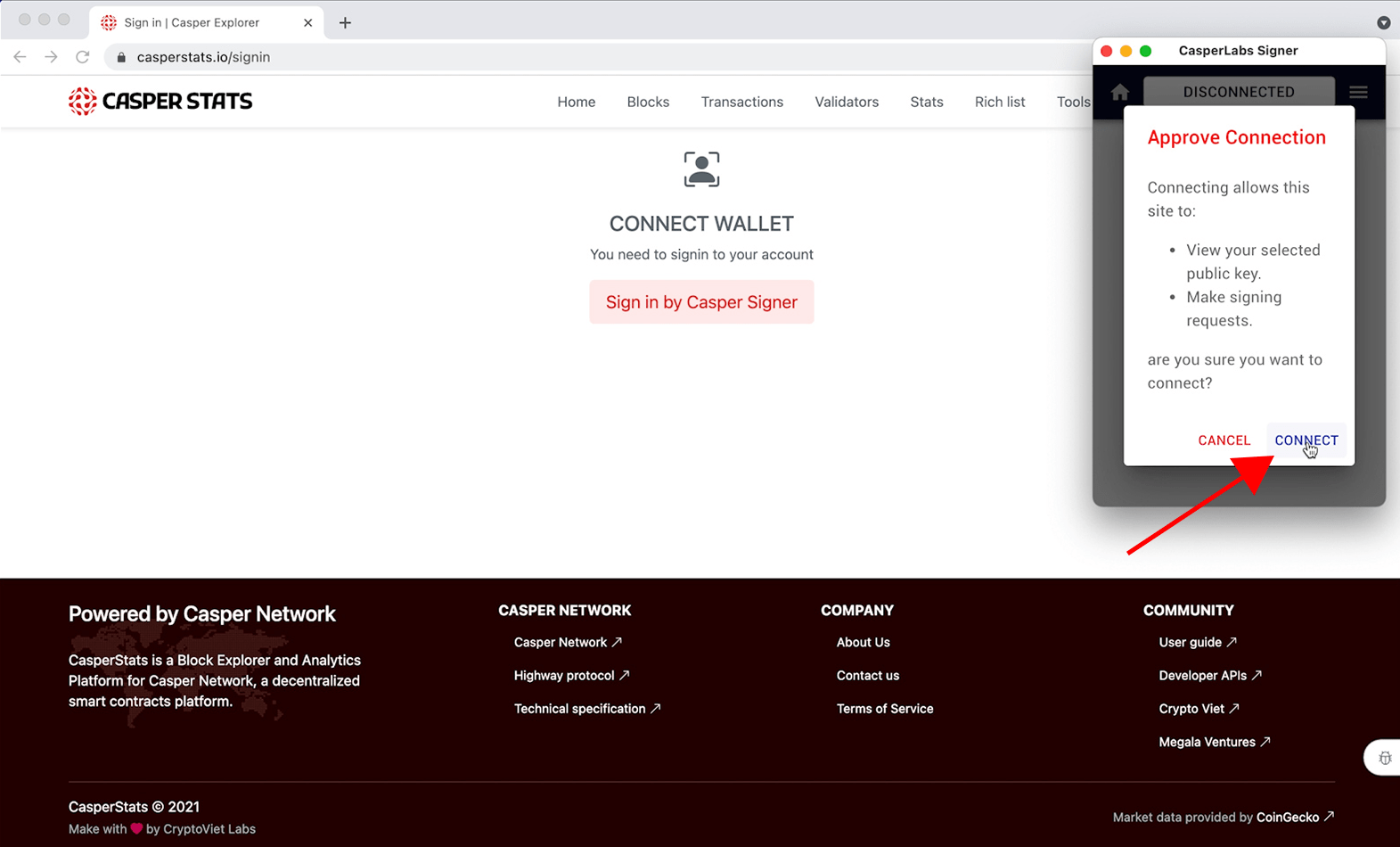 Now you are connected to the website.
IMPORTANT:
It may happen that the connection to your wallet is interrupted from time to time when you exit the browser.
Then you will have to enter your password again.
If it displays your address at the top of the website, you know you are connected.
Click on View account.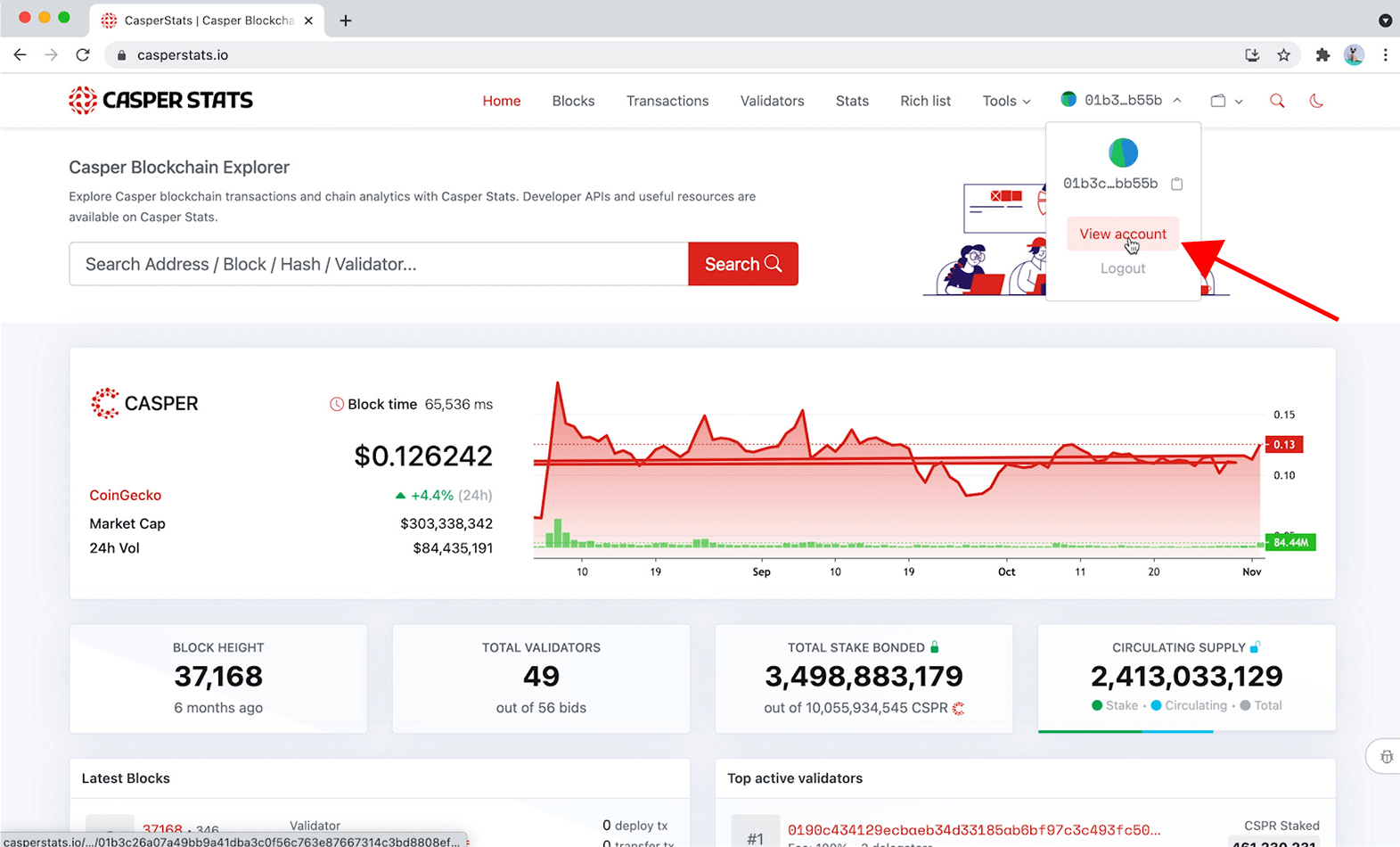 On this page you will find the address of your account.
Send the amount of CSPR you want to stake later to your wallet.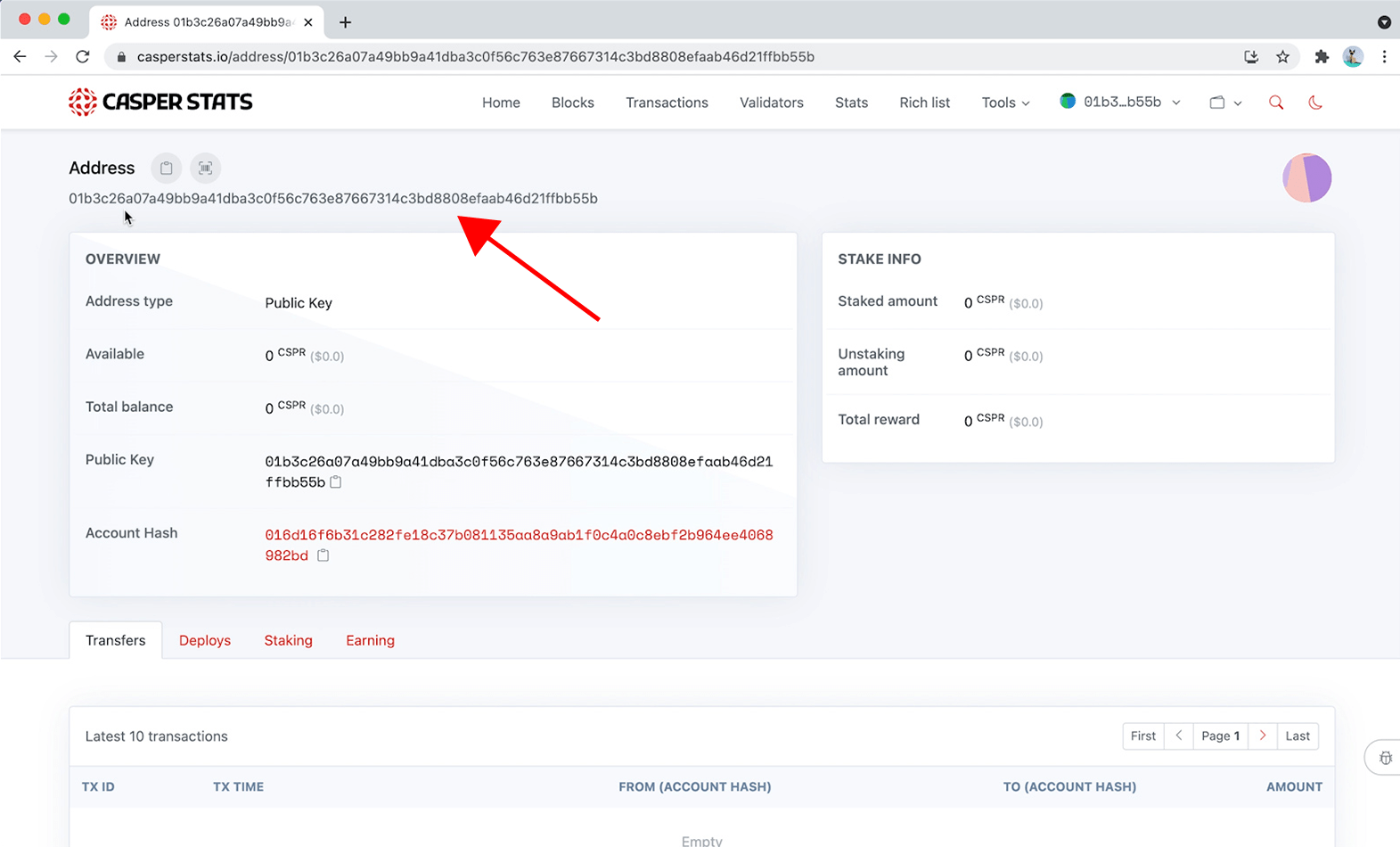 III. DELEGATE

FOR BINNOSTAKE
Click on the small wallet icon
and in the drop-down menu Delegate.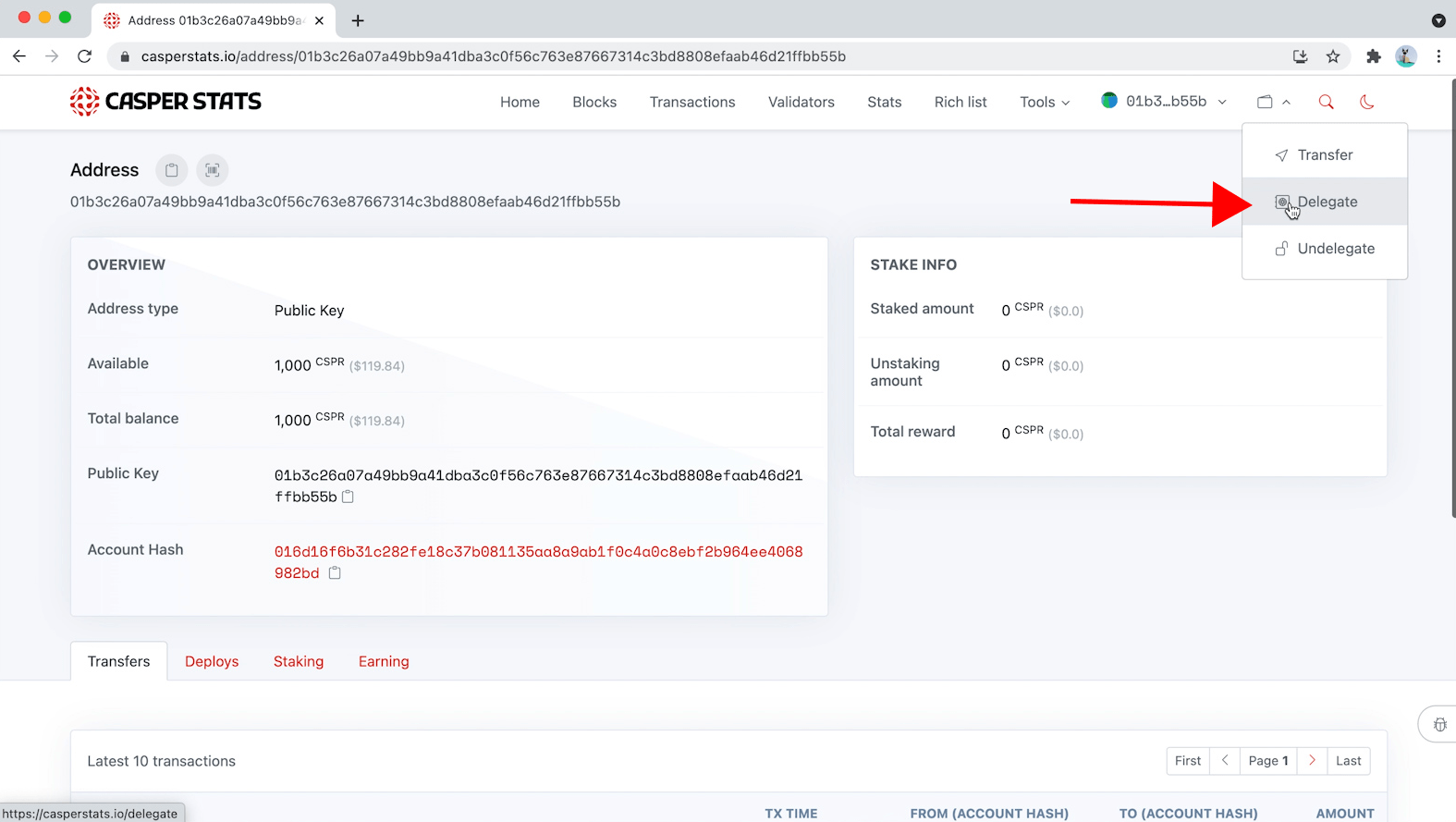 Search for BINNOSTAKE in the validator list
choose the amount you want to stake

and click Next step.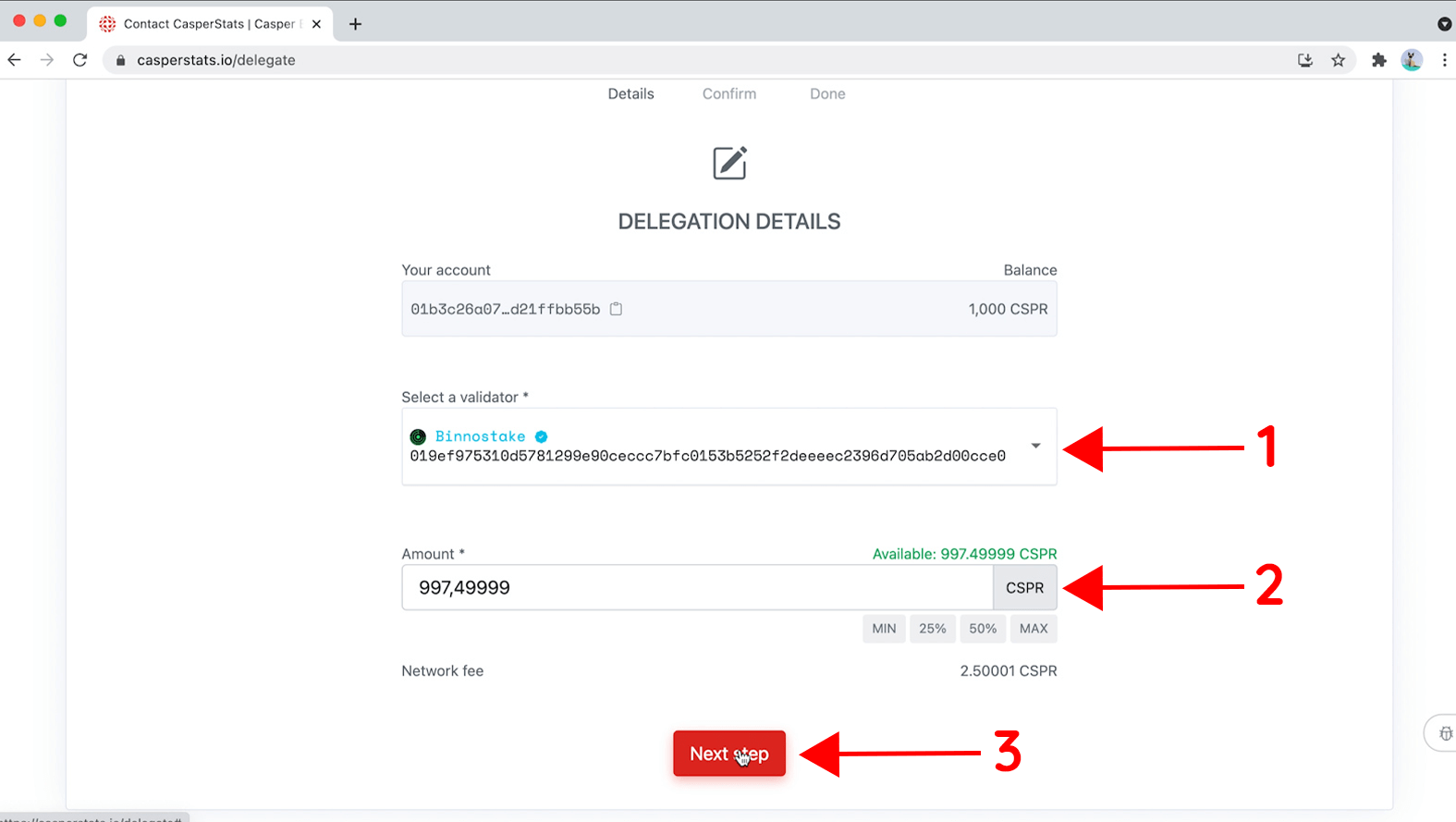 Now you have to confirm your delegation
by clicking on Delegate.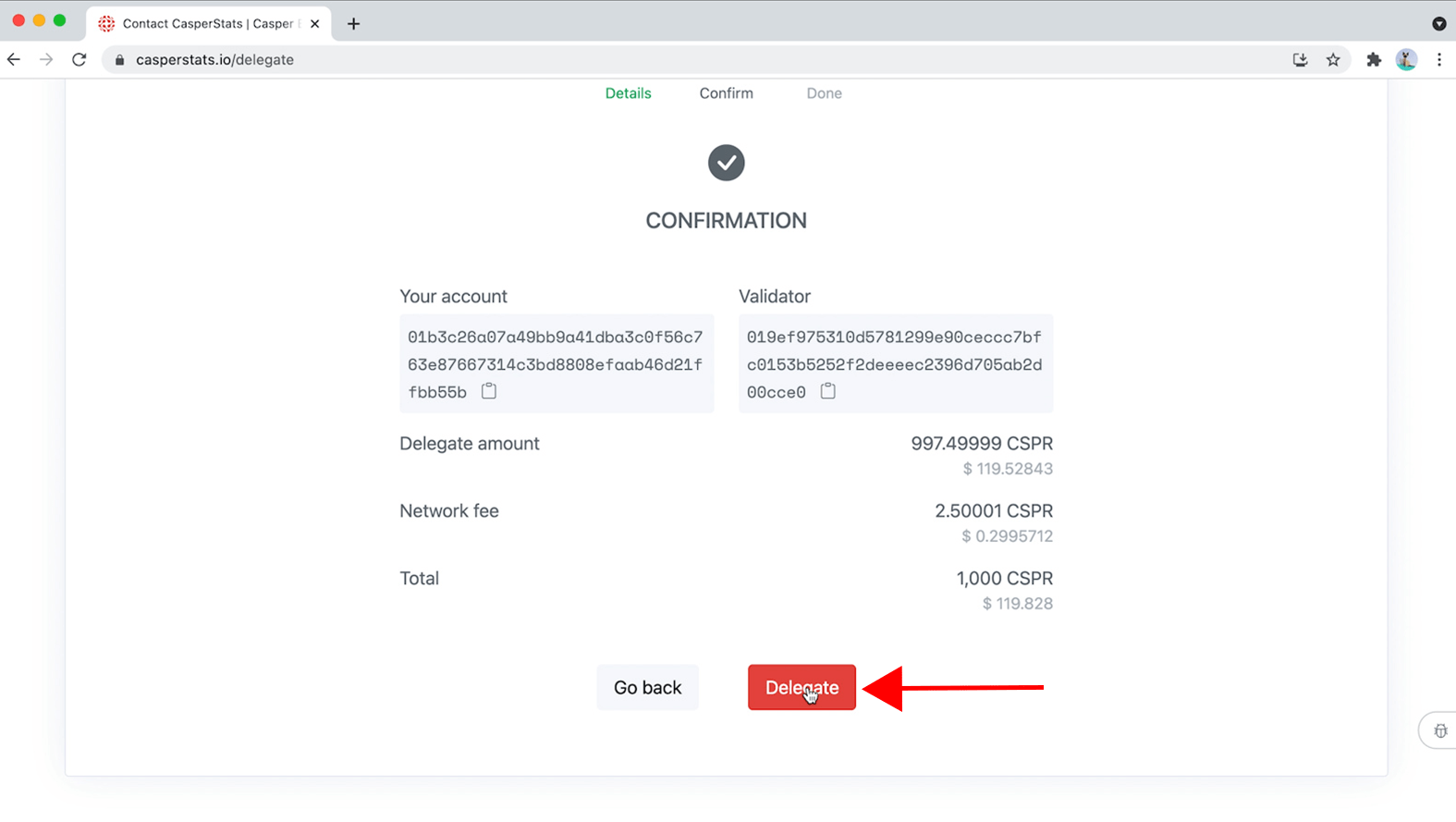 A small window opens.
Here you need to confirm the transaction with the Sign button.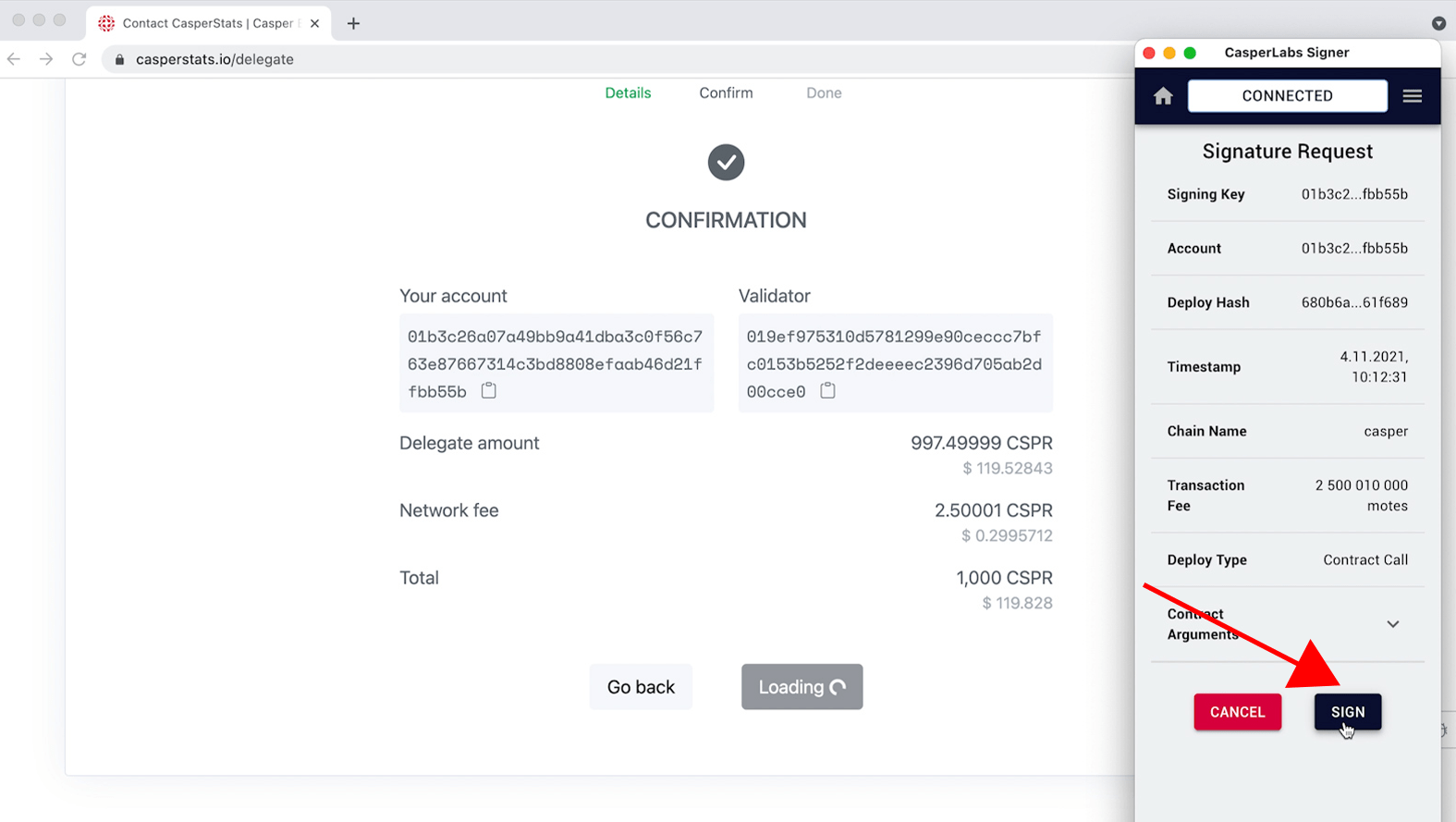 Congratulations
From now on you will receive your steady and continuous commissions
&
you are now part of the Binnostake community!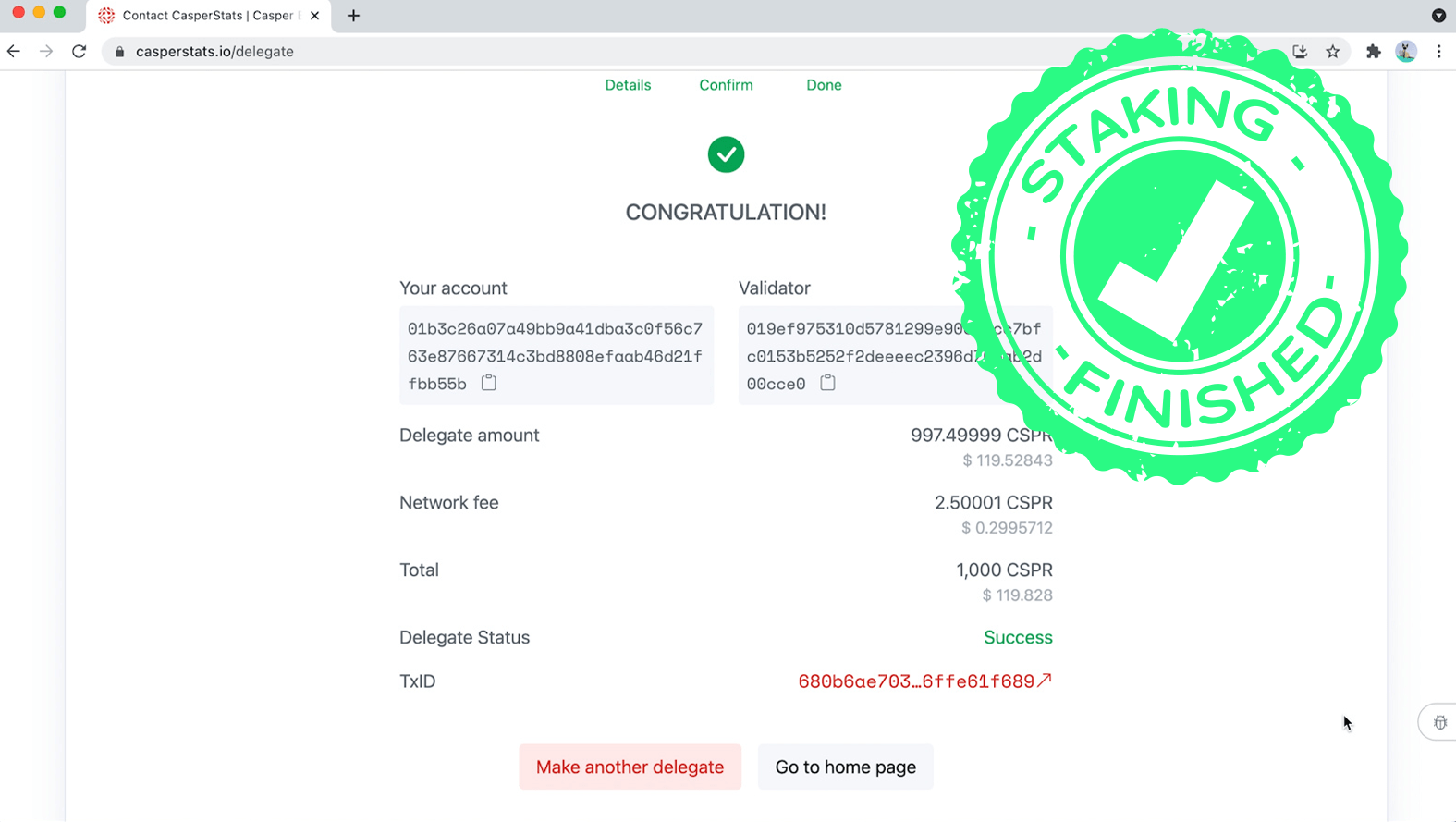 FREQUENTLY ASKED QUESTIONS
Do I control my CSPR when staking them?
You are still under full control over your CSPR at every time you delegate your coins to a validator. BINNOSTAKE will never have any control over your CSPR or your private key.
When will I receive my rewards?
Rewards are automatically distributed on the Casper network approximately every 2-6 hours.

Are the rewards directly sent to your wallet?
The coins are not sent to your wallet, but are directly staked.
Are my rewards taxable?
We cannot answer this question in general. This means different tax regulation in different legislations. You should inform yourself, if your rewards are taxable.